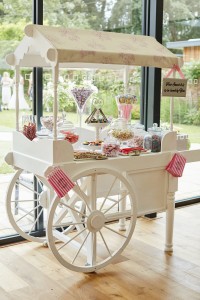 How about your own Pick 'n' Mix at your Special Occasion? Emms Stems will supply you with a traditional style Sweetie Cart filled to the brim with your favorite Sweet treats from the classic to the current favorites!
This includes Cart Hire, Sweetie Bowls or Giant Glasses or Funky Containers, depends on your Party Theme! Filled with enough Sweets to cater for all your Guests.
Our attendant can also spend the night with the cart making sure the sweets keep on coming and you don't have to worry about it. (There would be charge for this).
You can also bespoke our Cart to match your theme. Add ribbons, change the roof colour and use containers to suit.
Any left over Sweets will be bagged up and given to you. See our lists of Sweets below of the Sweets we supply, if there is something you would like that isn't on list, just let us know and we will get it for you.
Most Sweetie Buffets will include 5-8 Sweets selections from from the lists below.
Prices start from £185.00 for up to 100 Guests, additional Guests can be added for £1.50 per head.
Price includes, Cart, Set up, Canopy to match your colour theme, Jars/Containers, Scoops, Bags and Sweets.
Additionally  we can cater for smaller parties, just give us a call and we can arrange a free consultation to discuss your Party.
There will be a small charge for delivery and collection.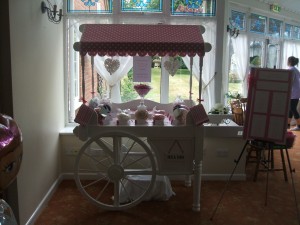 Emms Stems Vintage Sweet Cart
Emms Stems Cart books out quickly so please book early to avoid disappointment
CLASSIC SWEETS
Flying Saucers, Dolly Mixture, Black Jacks, Cola Cubes, Shrimps, White Mice, Sherbet Lemons, Jelly Babies, Foam Bananas, Rhubarb & Custards, Milk Bottles, Pear Drops, Bonbons, Lolly Pops
MODERN SWEETS
Jelly Beans, Mini Eggs, Fizzy Cola Bottles, Fizzy Mix, Giant Strawberries, Teddy Bears, Mini Jelly Babies, Teeth, Milkshake Bottles, Midget Gems, Fried Eggs, Mushrooms
LOVE SWEETS
Jelly Hearts, Rings, Cherries, Juicy Lips, Strawberries, Love Hearts